Surabaya Mount Bromo Package
Surabaya mount bromo package, Mount Bromo tour from Surabaya, Mt Bromo Tour from Jogjakarta, Mt Bromo tour from Malang. Mt Bromo One Day Tour from Surabaya, Mount Bromo Midnight Tour from Surabaya, Bromo Ijen Tour from Surabaya, Yogyakarta Bromo Ijen Tour. Surabaya Bromo, Surabaya Tour, Package Mount Bromo, Surabaya Bromo Ijen Bali .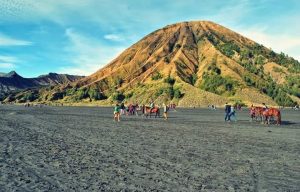 Mt Bromo Sunrise Tour From a vantage point on Mount Penanjakan (2,770 meters above sea level), visitors from around the world come to see the Beautiful sunrise over Mt Bromo. From this spot the vista is magnificent. Take the jeep from The village of Cemoro Lawang and it will take you to a very nice view point to watch the sunrise. Then it will take you to mount bromo to climb the the stairs up to the top.
You might get lost if you decided to walk from Cemoro Lawang as it is too dark. Already happened with our past clients and they missed the sunrise, make sure of the direction (jeep is recommended). Use a mask not only for the Sulphur smell on the crater but because you will walk a long distance through sea sand smelling a mixture of dust and a horse's turd. We recommend you for seeing the savanna also. It is located at the backside of Mount Bromo and it was one of the major things you can do for mt Bromo Tour by a jeep.
Itenerary as below :
Day 1 : Surabaya – Mount Bromo Hotel
Our guide and driver will pick you up at the hotel, train station or airport. Then, we will drive from Surabaya to Mount Bromo area for about 3-4 hours. Upon your arrival in Mt Bromo area, we will escort you to the hotel in Mt. Bromo area for an enjoyable stay before you do a tour in Mount Bromo.
Day 2 : Mt Bromo Sunrise Tour – Finish
You will be given an early morning wakeup call at around 03.00 am to prepare for Mount Bromo sunrise hike. An exciting ride on the jeep 4WD will bring you to the neighbouring peak of  Mount Penanjakan (2770m). The edge of the Tengger crater rim to witness the beautiful sunrise views over the Bromo landscape. Rising from the flat volcanic sand bed of the caldera is the dormant core of Mount Batok (2440m) and the active volcano of Mount Bromo (2329m). Further south beyond the crater wall lies mighty Gunung Semeru (3676m) – the highest and most active volcano in Java.
After enjoying the sunrise, you will then continue the exciting ride on the jeep 4WD over the savannah and sea of Sand to Poten – a Tenggerese Hindu temple beside Mount Bromo. From Poten, you can choose to take a 3km hike or a horse ride to get to the base of Mount Bromo, where you will be rewarded with the close  up views of the Crater Rim after ascending a steep flight of 250 steps. Return to your hotel for breakfast and relax. Continue the journey to Surabaya City and Finish.