Package Mount Bromo Outbound
Package Mount Bromo Outbound, is the perfect Choice for a group or gathering to make your holiday more fun and always imprint in your heart. Amazing sunrise and sunsets, the great mount Bromo crater, Whispering sand, and also Savannah hill during the perfect season. And you will be able to spot many stars trill or milky way at night. Great for photography . The landscape is very awesome and the crater you get to be so close to a real live.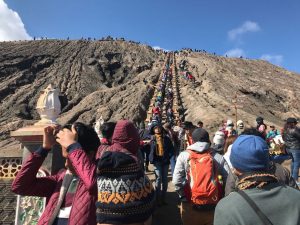 Package Mount Bromo Outbound This holiday for group of people. Factory or a collection sometimes make a plan holiday to have gathering session by going to together to do fun things and also vacation at the same time with their friends,or family. Mount Bromo Outbound package is offered by some tour agents to Bromo mountain since this is the perfect place to do so many games or things based on the programs.
Outbound Package in Mount Bromo is different from other private tour plan. It is not for one or two people only but this package can cover a lot of people inside one team or factory if you want to enjoy together with them all for holiday.
Two days is perfect time, because gathering is always held for more than one day. There are so many different spots in mount Bromo you choose for your outbound place. The tour schedule is also different from regular tour like seeing sunset and sunrise. Your team will do so many games offered by tour agent which have purpose behind it. The outbound facilities are included to give benefits of leaderships, team work or just for fun only.
The campfire at night under the stars trill will do your activities. So different from regular schedules. That's all depends on the package you choose but the fun you may get is the same like other people. The important things you always smile, happy, and fun together.
Detail Package Mount Bromo Outbound with Great facilities but in lower cost that's our work.