Mount Bromo Tumpak Sewu Waterfall and Ijen Crater Tour 4 Days
Mount Bromo Tumpak Sewu Waterfall and Ijen Crater Tour 4 Days, This Package so complicated in East Java Indonesia. Start From Surabaya, Malang, Banyuwangi, or Bali.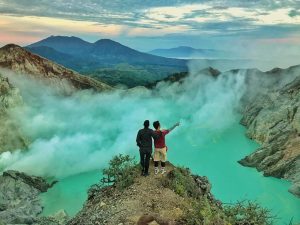 Bromo Ijen Coban Sewu Waterfalls , Mt Bromo is about the amazing sunrise view with the caldera and activ Volcano Mountain including grassland savanna, sea of sand, and Teletubies hill. Mount Ijen with The Famous bluefire and green lake crater. And Tumpak Sewu Waterfalls is about a Thousand wonderful waterfall in one place. You can visit completted in this package.
Detai Itinerary:
Day 1: Surabaya / Malang – Hotel Around ​​Mount Bromo
Our team will pick you up at airport, station or hotel and drive to Cemoro Lawang with duration of 3.5 hours driving. Reach at hotel, chek in, rest and Relax.
Day 2: Mt Bromo Sunrise Tour – Hotel in Lumajang
Early wake up at 03.00 am, than Jeep Driver will Pick you up from hotel and continue towards View Point to explore the sunrise. Also possible we can Shoot the Milky Way in Bromo. While waiting the sunrise you can drink a cup of hot coffee or tea.
After enjoy sunrise, continue towards Bromo Crater, You can do Soft Trekking to get the crater,or rent a horse.
Afterwards, back to hotel for breakfast and packing up to continue the tour to hotel in Lumajang city. Then check in hotel and free program.
Day 3 : Tumpak Sewu Waterfall – Hotel In Ijen
After Breakfast, our driver will take you to Sidomulyo village in Pronojiwo district with duration one hour.
Arrive at Tumpak Sewu parking area, walk down to waterfall point by descending cliff and crossing river for 30 minutes. Explore the Beautifull scenery. Enjoy waterfall and the view there until satisfied.
Afterwards, continue the tour towards Ijen area. When you reach hotel we have provided in Ijen, check in and free program.
Day 4 :Ijen Crater Bluefire Tour  – Finish
At Midnight 00.00 AM we take you to Paltuding approximately 1,5 Hours, Paltuding Post is the start location to Ijen Crater. Arrived at the Paltuding parking area, start trekking to the crater about 2 hours to reach the top of Ijen Crater.You will enjoy the amazing landscape along the road, passing coffee plantations and rainforest.
After reaching the peak at 2,799 meters, Explore the beautifull and Amazing bluefire, sunrise, green crater lake and the sulfur miners.
Than, back down to post and return back to Surabaya / Malang / Ketapang harbour Banyuwangi, and the program Bromo Ijen Tumpak Sewu Waterfall Tour 4 Days is completed.
Included:
Private car with AC (Air Conditioned) until finish vacation
Professional Driver
Fuel, parking fee along trip
Entrance fee for all tourism according itinerary
Private Jeep 4 WD for Mount Bromo tour package
1 Night accommodation around Bromo Mountain
1 Night accommodation in Coban Sewu Waterfall area
1 Night accommodation in Ijen area
Local trekking guide to keep your trekking in Coban Sewu Waterfall
Local trekking guide to keep your trekking in Ijen Crater
Mineral water along trip
Exclude :
Lunch and Dinner
Personal expense
Madakaripura Waterfall
Mount Bromo Tumpak Sewu Waterfall and Ijen Crater Tour 4 Days